According to the *EPA; Radon is a radioactive gas that comes from the natural breakdown of uranium in soil, rock, and water, which gets into the air we breathe. It is colorless, odorless, and tasteless, making it difficult to detect. Radon gas travels through soil and enters the indoor environments of buildings through cracks and other openings in the foundation. The Surgeon General has warned that radon is the second leading cause of lung cancer in the United States today. Only smoking causes more lung cancer deaths.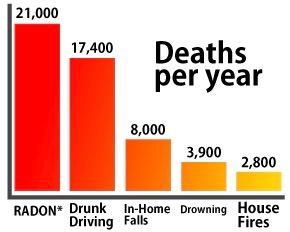 Radon can be found all over the U.S, and can get into any type of building resulting in a high indoor radon level. Radon can enter via the basement, crawl space, slab, or any other type of foundation in your home, office, work, and/or school. However, you are most likely to experience your greatest level of exposure at home, where you spend most of your time.
Professional testing is the only way to know for sure if you and your family are at risk. The EPA and the Surgeon General recommend testing all homes below the third floor for radon gas. Testing is inexpensive, easy and only takes a few moments of your time to set up. Contact Cornerstone Inspection Services to ensure you and your family are free of risk.
For more information on radon testing in the Greater Indianapolis Area and its surrounding counties, call Cornerstone Inspection Services at (317) 815-9497 or email us at info@csinspection.com.
*Source: http://www.epa.gov/radon/