Maybe you've had your sewer pipeline inspected before, but how close of a look did they take? Most sewer line inspections only include what is visible. At Cornerstone we take sewer inspections one step further with our Sewer Camera Inspections. 
The majority of sewer pipeline issues occur beneath the surface, so it only makes sense to inspect what can't be seen with the naked eye. Few inspection companies actually do this, so at Cornerstone we are really excited to offer this service. Ordering a sewer camera inspection is also the only way to determine the condition of the inside of the pipe. 
How does it work?
Our technicians access the pipelines through the clean-out access and send a small color camera attached to the end of a long flexible rod with high powered LED lights through the sewer line.  The camera snakes its way through the sewer line all the way to the city sewer connection.  Along the way, the technician looks for signs of deteriorated pipes, tree roots growing in the pipes, sags or bellies holding water, cracked or broken pipes, off sets in the pipe restricting flow, or any other anomaly which they can detect.  All of this is recorded in a video which is part of the report you will receive.  All defects are verbally noted in the video as well as in a written report.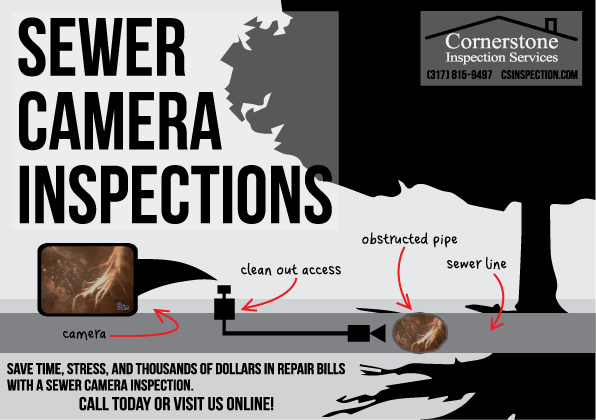 Many issues can be found from sewer camera inspections like tree roots, grease build-up, and other forms of blockage. Finding potential issues such as these can save you from having to spend thousands of dollars in repairs. The best time to schedule a sewer camera inspection is when purchasing a new home, selling your home, or if you suspect something may be wrong with your sewer lines. 
To learn more about our inspection services or scheduling an inspection, click here.